Once you have rented your lovely canopy from TentRent it's now time to decorate and beautify your tent. Here are three easy ways to get the most out of your Toronto tent rental by creating a joyful atmosphere with the proper décor.
1. Balloons Décor in Toronto Canopy Tent
You've already finished the first step by renting a tent from a Toronto canopy rental. It's time to take the next step with decorating. Where should you start? Balloons! Who doesn't love balloons? Ever since we were kids, we've all loved having (sometimes popping) balloons.
Decorating your Toronto party tent with balloons is an easy way to enhance your canopy. Having similar colored balloons to that of your event's color scheme is what you should first consider. If you're not quite sure of the color scheme yet, here are some Toronto balloon colors that go great together:
Yellow & Silver
Rainbow
Black & Red
Silver & Gold
Pink & White
Balloons come in all shapes and sizes, so why not try them out? You can experiment with different shapes such as:
Stars
Squares
Hearts
Spades
Balloon rentals Toronto that are specialized for your event might also be a good idea to consider. You can hang your balloons on the ceiling or let those blissful helium-filled balloons float right up to the tips of their string.
2. The Best lights for your Toronto Event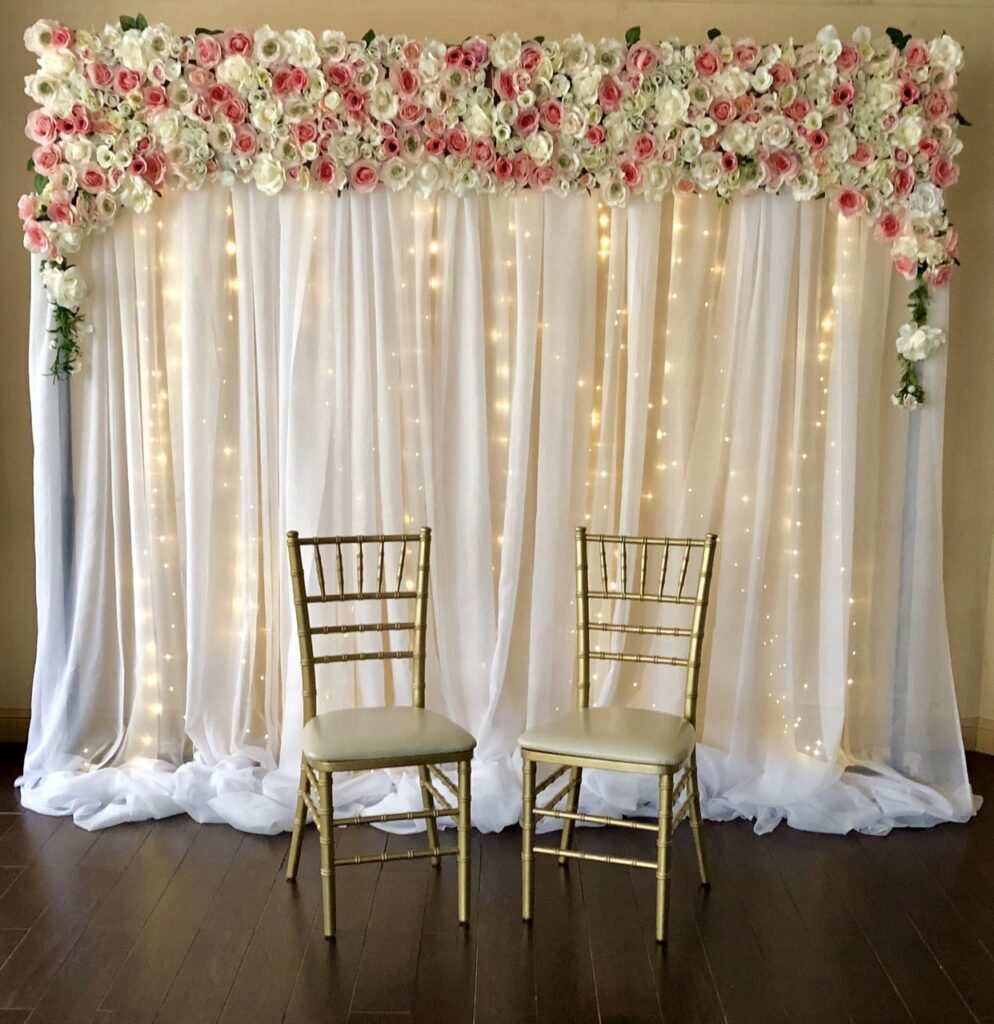 When you rent a tent in Toronto, the next thing you will want to do is light up your canopy. There are so many types of lights to choose from, but we are starting with the most common ones, LED lights. LED lights are everywhere, likely because of their beauty and efficiency. There are quite a few types of LED lights to try out so here are a few suggestions:
Stage lights
Disco
Lasers
Strips
Strings
Some LED lights flicker while others move around, and some even produce images on various backgrounds. Each one has a unique effect that you can use to spruce up your tent. The best thing about LED lights is that many are controlled remotely.
If you're looking for an eco-friendly alternative, consider a solar-paneled light. Instead of relying on electricity, you can help preserve our environment by using energy-efficient sources. Checking out the substances they contain and how long the light will last is also helpful.
Pro Tip: LED lights can last for years, so they are a pretty great option. Take a look at the different eco-friendly decor, and see what works for you!
Different Light Options for Toronto Canopy Tent
There are a variety of options aside from LED lights. Depending on the event, lanterns, candles, or even chandeliers might be a better fit for you. Lanterns are great for an earthy or calm effect, and they always look absolutely stunning.
Chandeliers naturally bring about a sense of elegance, which might be perfect for your canopy from TentRent Candles, on the other hand, give a tranquil feel. They would look enchanting at night in your canopy.
The shape and color play a huge part in the final presentation as well. Maybe you want diamond-shaped lights that'll dramatize the exciting theme of your function or red and pink lights that'll give you a more romantic feel. These decisions are all in your control, and the best part is, your lights can go anywhere in the tent.
They can shine on the ceiling or shimmer the floor. Putting them on the tables would make for a nice centerpiece as well. Try putting them in different places to discover the ambiance that is right for you.
3. Drapes Rental in Toronto Canopy Tent
TentRent is a Toronto tent rental with beautiful canopies. Of course, you want to decorate the tent as marvelous as ever. Hanging awesome drapes in the tent is a great way to electrify your event. Add drapes of different colors, sizes, and patterns to magnify the exquisite setting of your event. Mix and match colors, or explore various designs like zigzags or roses.
Try out different designs and see what works for you. Using drapes is an easy decoration method, which will bring your tent to life. What are you waiting for?
Rent a tent in Toronto or from across the GTA, and start decorating! You'll get the chance to shape a huge part of your function by accessorizing it. These decorations will help your event to stand out to all of its guests and attendees.