Planning an Office Party with a Photo Booth in Huntsville
Are you planning on having an office party in Huntsville but don't know exactly how to plan it? If so, here are six ideas on what you should have at your office party.
1. Have a scavenger hunt for Office Party Hunstville
Having a scavenger hunt at your office party in Huntsville is a fun activity for everyone. It draws everyone together with problem solving and engagement; it's the ideal team builder. All participants can engage in the scavenger hunt in a variety of ways. You can do this through a mobile app where they will have to snap photos, scan QR codes and answer questions. You can also make a map of the office or put written clues around.
2. Make an Escape Room Huntsville
Planning to Have an escape room at your office party will get everyone interacting with each other and will be fun. Divide everyone up into a team at your office party and assign each team a room. In each of these rooms, you should have a theme. Whether it be to escape a sinking ship or get out of detention, make sure it is creative. Take some time to plan out a storyline and puzzles to escape the room. Once you have everything planned out, make sure you have some props that match the theme. Once your escape room is set up, have everyone go into their assigned room and make sure they don't have their phone on them. The first team out of the room wins.
3. Consider having everyone dress up in costumes
Brighten up your office party in Huntsville with everyone wearing costumes instead of the usual clothing. These costumes can be in any category, whether it's goofy, scary or fancy. Everyone will enjoy this and get to use their imagination. It's a great way to start a conversation at a party. Consider furthering this idea with a competition. Have everyone vote for who has the best costume. You can have prizes at your office party to get your guests motivated. Some Ideas of prizes could be gift cards, alcohol, gift baskets, perfumes, etc.
4. Have a potluck
Having a potluck at your office party makes your life easier because you don't have to provide all the food by yourself. Have everyone bring something in and list who is bringing what so things don't get brought twice. Consider having an around the world potluck. This is where everyone brings a variety of foods. For example, some people can bring in Indian food, Chinese food, Italian food, etc. This provides everyone with different options and will be fun to taste, especially for people who haven't tasted it before.
5. Rent a photo booth for Office Party Huntsville
Consider renting a photo booth at your office party in Huntsville. Who doesn't love to put on props and take group pictures together? A photo booth is suitable for all ages, so if you have guests with a significant age gap from each other, I guarantee all of them will have fun with it. Renting a photo booth in Huntsville will make everyone interact with each other, especially those who don't know everyone. The best photo booth company to go to in Huntsville is Show Booth. You get to take unlimited photos for the amount of time you booked for; you don't have to set it up; there are a variety of fun props, customizable backdrops, enough room for a big group to take a picture, good lighting, etc. Everyone is already dressed up at your office party, so why not capture this moment in a photo booth. If you end up doing a scavenger hunt, an escape room or any activity, you can make this photo booth part of it. You can put clues that relate to the photo booth for your scavenger hunt or escape room.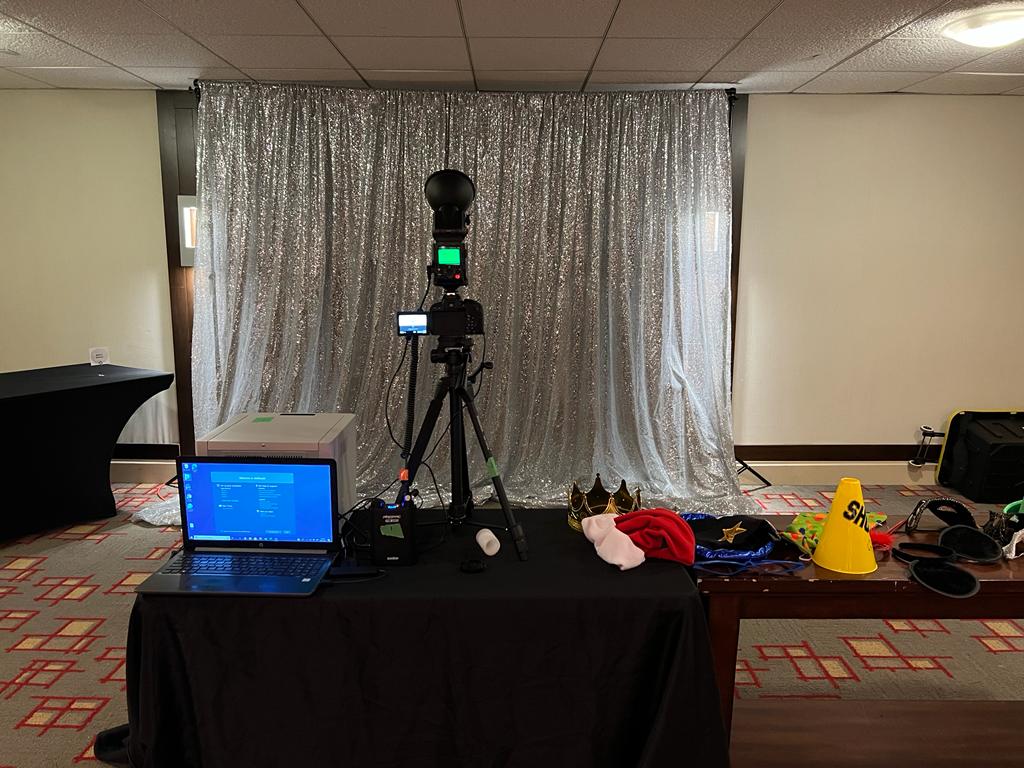 6. Have a space for everyone to dance
Make sure you set some room in your office party for people to dance. Have a playlist of a variety of songs that will get everyone moving. Consider asking people which songs they prefer and setting up a playlist, so you don't have to keep switching the songs. Not everyone may want to dance, so having a photo booth like mentioned previously is a good idea. This makes your party more inclusive to everyone, so they don't feel left out.
Hopefully, these ideas are helpful for having an office party with a photo booth in Huntsville. If you are looking to rent a photo booth, Show Booth is the best company in Huntsville to go to. It is affordable, and you get unlimited 4×6 printouts that are customizable. There are so many benefits of renting a photo booth in Huntsville with Show Booth. Photo booth rental services are available in Huntsville, Innisfil, Orillia, New Tecumseth, Wasaga Beach, Barrie, Bracebridge & Blue Mountain. So be sure to contact us for your photo booth.